cta buttons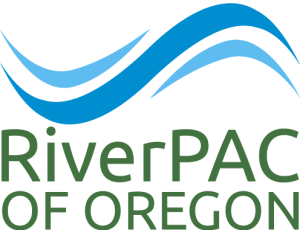 RiverPAC supports candidates in Oregon who advocate for
ecologically sound public policies to protect and restore Oregon's rivers.
Board of Directors
Mary Scurlock
Director
Robert Van Dyk
Director
Jef A Green
Treasurer
Key priorities:
 Farm and forest practices that meet minimum water quality standards and restore native aquatic species.
Balanced public policies that help maintain Oregon's farm and forest land base in the face of development pressure.
RiverPAC of Oregon Supported
the following 13 Candidates and Causes in 2016:
Rep. Ken Helm
Salmon champion leading the effort for sustainable water use and Chair of the House Committee on Energy and the Environment; represents House District  34 (Beaverton).
Sen. Arnie Roblan
Founding Coastal Caucus member from the South Coast and leader in the effort for Trust Land Transfer legislation.  Represents Senate District 5 (Coos Bay).
State Treasurer Tobias Read
Member of the State Land Board and former sponsor of legislation to help protect the Elliott State Forest.
Governor Kate Brown
Proposed budget allocates $100 million to protect the Elliott State Forest and increases funding for sustainable groundwater use
Rep. Ann Lininger
Strong voice for public health and stream protection on multiple fronts including aerial spraying of forest chemicals and landslide risk reduction; founder of the  Legislative Environmental Caucus focused on toxics, fracking, electric vehicle advocacy and phasing out Styrofoam. Represents House District 38 (Lake Oswego).
Sen. Michael Dembrow
Member of Senate Ways and Means Committee and Senate Environment and Natural Resources Committee; founding member of Legislative Environmental Caucus.  Represents Senate District 23 (east Portland).
Commissioner Annabelle Jaramillo
Progressive Chair of the Benton County Board of Commissioners dedicated to sustainable development.
Sen. Chuck Riley
Returning Senator from western Washington County, elected Assistant Senate Majority Leader.  Represents Senate District 15 (Hillsboro).
Rep. David Gomberg
Small business owner from Otis and strong voice for integration of conservation and economic development within the Coastal Caucus.  Represents House District 10 (Central Coast).
FuturePAC
A collaborative campaign supporting Oregon House Democrats
Yes for Clean Water and Healthy Soil (Washington County Measure 34-269)
Important local conservation initiative passed in November 2016; funded the Tualatin Soil and Water Conservation District through a new tax levy for up to $5 million annually to expand current watershed conservation efforts.
Ken Moore
Pro-conservation candidate for House District 24 (Yamhill).
Brad Avakian
Pro-conservation candidate for Secretary of State; former legislator and Secretary of Labor.
Priority Issues for RiverPAC in 2017 include:
1)  Keep the Elliott State Forest in public ownership and permanently protect its old growth forests and streams;
2)  Protect streamflows by improving water management through measurement of stream and groundwater withdrawals;
3)  Strong, permanent regulation of suction dredge mining.
4)  Balanced representation of conservation interests on Boards and Commissions.
5)  Adequate funding for natural resource agencies responsible for setting and attaining minimum water quality standards on state and private forestlands that provide salmon habitat and drinking water.